Awaken Resources
Awaken.

A month long journey of prayer and fasting.


RESOURCES
---
Pick up an Awaken handout at any of our Sunday Worship Gatherings or click here to download a digital copy. This handout includes the schedule of events throughout the month and the daily scripture reading plan.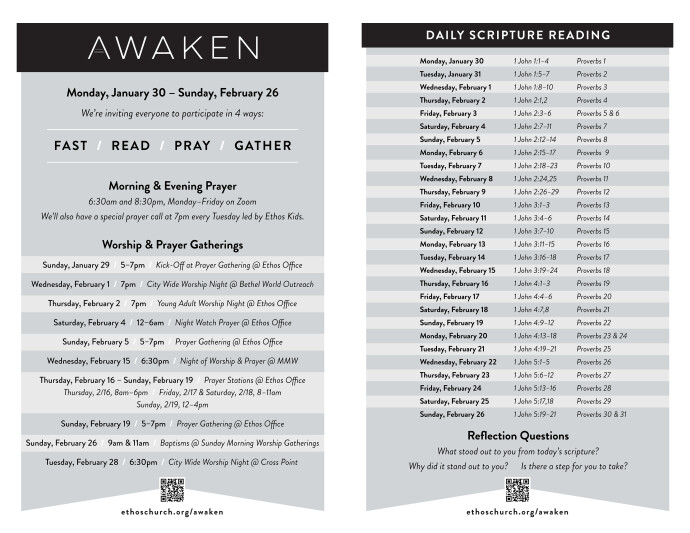 ---
We are offering a few Grow Classes this season to help you prepare and walk through our season of prayer and fasting. Sign ups are open now — these classes begin before Awaken, so take a moment to learn more and sign up!
We recorded the one night Grow Class led by Dave Clayton, Brandon Steele, and Andrew Smith. You can listen to the podcast as you prepare.
---
Our team has gathered lots of resources to get you started as you prepare to pray and fast this month. Click the categories below to see what we've pulled together!
Introductory PDF by Dave Clayton
Recorded by our Ethos Team, with an additional couple podcasts that we like!
Reading on Prayer and Fasting
Written by Ethos Staff and Family Members

Do you have a recommendation for a resource on prayer and fasting? Email .
---
We encourage you to start your preparation by reading this short pdf, How To Choose Your Fast.
Click here to read and/or download the pdf.